SUNSHINE COAST REAL ESTATE DECEMBER MARKET UPDATE
The Sunshine Coast real estate market experienced a slight decrease in market activity in November, lower than the historical average and not surprising considering the past six months of interest rate increases, inflation and economic turbulence. 
The stats below are for single-family detached homes across all price ranges for Gibsons, Sechelt and the Sunshine Coast.
The Benchmark HPI (Home Price Index) for the Sunshine Coast decreased by 2.9% last month, edging us closer to the HPI of November 2021. There is no denying that the housing market has experienced significant changes over the past six months, with a 14.8% decrease in the Benchmark Home Price Index since June. To put this into perspective, the Benchmark HPI in June 2022 for the Sunshine Coast was $1,045,000, whereas today, the Benchmark Price is $890,400.
Re/Max Canada predicts stability in 2023 and even price increases, particularly for British Columbia, as in-migration from other provinces continues, combined with the federal government's planned expansion of immigrants into Canada over the next two years.
Looking at the chart below, you can see the inventory trends over the last decade. Low inventory and decreased sales are typical for this time of year as we head into the holiday season. As a result, many wanting to sell will hold off until spring, which is great for buyers as more inventory comes to market, but it also means more competition for sellers. So if you plan on holding off until spring, use this time to get your house in tip-top shape because you need to do everything possible in a buyers' market to set yourself apart from the rest.
The total number of sales for single-family detached homes on the Sunshine Coast in November was 23; 6 were in Sechelt, 8 in Gibsons, and the remainder spread out between Roberts Creek, Halfmoon Bay and Pender Harbour. The total inventory in this category was 240 for the entire coast, 84 in Sechelt and 72 in Gibsons, slightly lower than October's inventory. If we break it down into price ranges, there were 14 sales under 999,000 and 9 over 1,000,000 dollars. The average days on the market fluctuated only slightly compared to October; the average days on the market for the Sunshine Coast was 49, not horrible considering that in 2015 the average days on the market in November was 116. So, sellers, be patient; the past two years were unprecedented, and sales are returning to more realistic levels.
The chart below shows the historical average list-to-sale data (days on the market) for single-family detached homes over the past decade.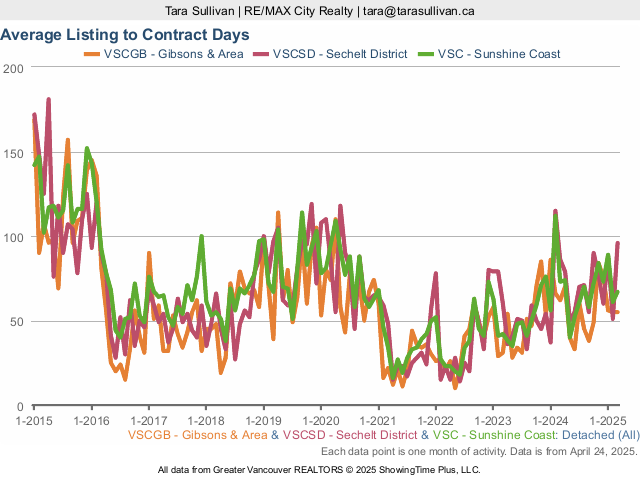 For a complete stats package for your area, send me a message, I am happy to share!