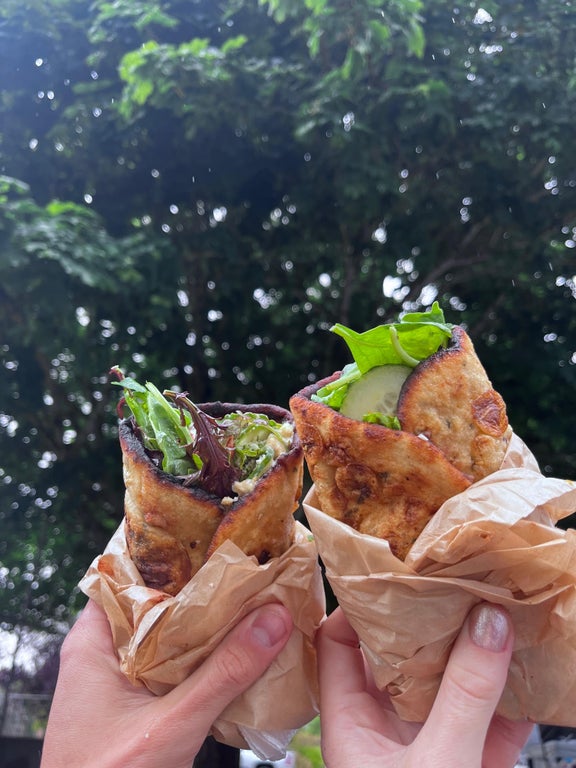 If you recently moved or looking to buy your dream home on the Sunshine Coast, B.C., or looking to take a trip here and are curious about what treats you can find, you must check out the six hidden gems along the coast!
Hagit Ammer runs her incredible booth at the Sechelts Farmers Market. We tried her "Falafel Taco" (the photo above) on her homemade sourdough bread, which was mouth-watering.
It is a family-owned business created by two women on the Sunshine Coast, B.C. They are Certified Vegan, Certified Organic, Allergan free & non-GMO fruit sweetened truffles and salted caramels. This company believes you can heal your mind and body with food, and its values reflect that by creating outstanding products from clean ingredients. Keep your eyes out for their booth at the Sechelt's Farmer's Market or directly on their website, and when you see them, you must try their Sea Salt Truffles and their Coffee Truffles; your jaw will drop!
This family-owned business here on the sunshine coast is certified Vegan, certified Organic & non-GMO that creates a variety of nut butter and chocolates. The deep care of making nutritious, quality batches is evident once you try it! I tried their Peanut Butter Cups at the Sechelt Farmers Market, and they are the best natural treat without refined sugars. If I could only have one dessert for the rest of my life, that would be it!
Another family-run business that values the relationships they make while doing this work and does their best to cater to all: gluten conscious*, vegetarian, vegan, pastry enthusiasts, hikers, bikers, walkers and runners alike. All their baked goods are made on-site, using the highest quality local or organic ingredients. Whenever hiking the
Skookumchuck Narrows
(Egmont, British Columbia), I always stop for an oat latte and one of their chocolate chip cookies to die for! Shookumchuck Narrows is situated at the end of a 4km hike, which passes through the lush Canadian rainforest, densely populated with rich trees, low-hanging moss, and freshwater lakes. 
A queer-owned catering service inspired by the culinary world and the power of connection through food between individuals, groups and cultures. If you require a caterer for an event or a nomadic picnic, these are the women you would want to reach out to. They catered to a friend's wedding, and everyone raved about the spread. My favourite part was their charcuterie boards!
A multimedia & education company founded in Gibsons on British Columbia's Sunshine Coast in 2018. Check out their Grocery Store in the Gibsons Public Market down by the waterfront; if he's there, you're in for a wealth of knowledge. They offer unique experiences for beginners, advanced mushroom enthusiasts, and everyone, like guided wild foraging walks, customs, and the Mushroom Education & Health Centre! You can find their educational opportunities and workshops on their website. As well as Mushroom grow kits, mushroom-infused coffees and elixirs and many more unique products.
If you have any questions about buying or selling your home, please get in touch with Tara!